TROOP #264
Mohnton, PA 19540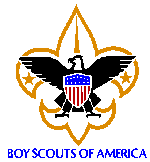 ---
Hello, and welcome to the website of Boy Scout Troop #264, Mohnton, PA. Please feel free to e-mail me with any suggestions. In case your're wondering, the music is John Phillip Sousa's Boy Scouts of America.

Troop 264 is operated out of Mohnton, PA and consists of 41 Scouts. We go on 1 outing per month. During the summer, we attend Hawk Mountain Scout Reservation. This site will contain some general information about the Troop and its activites. Please remember it is always under construction.

The information on this home page is provided as a public service. We make every effort to ensure the accuracy of posted information but cannot be responsible for errors or for information contained on the linked pages. Happy Surfing! Page updated 3/5/99.

Troop 264 Meetings
Time:
Monday 7:00 p.m. - 8:30 p.m.
Place:
Saint John's Lutheran Church Parish House
One Front Street Plaza
Mohnton, PA 19540
Sponsor:
Saint John's Lutheran Church

Here's what you can do here

Read our troop roster.


View our troop activity calendar.


Read a summary of the 1995-1996 activities.


Read about joining Troop264.


See young Bob Keffer at the 1988 summer camp.


Our Favorite Links

Boy Scouts of America Official Web Site


HawkMountain Council


Kittatinny Lodge 5


All you wanted to know about knots.


Backpacker Magazine BaseCamp


The MacScouter


The Scouting JumpStation


Great Outdoor Recreation Pages


Troop 529, Gibraltar


Troop 791, Frackville


BSA Internet Disclaimer


Troop 430, Whitfield


History of BSA


Scoutlinks


Troop 160, Leesport


Troop 104, Krumsville


You are visitor number
since October 1, 1996.
kenpick@postoffice.ptd.net

Use our new answering machine to leave messages.